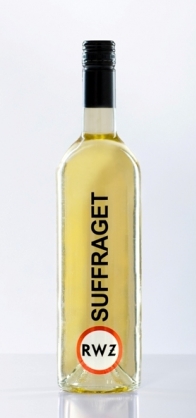 Suffraget 2014:
Semi-sweet white wine.

The color is light amber. The nose is full of apricot and marzipan cake. The mouth is rich with fine and astonishing balance of caramel and spicy apricot jam; bitter almond in a long finish, hints of lemon and cinnamon in the aftertaste. Meeting of wine regions for rebellion–minded wine lovers.

Wine region: Mátra & Tokaj cuveé
Yield of grapes per plant: 8-10 bunches
Bottles produced: 750 pcs.

Grape variety: Pinot Gris (Mátra), Hárslevelű (Tokaj)
Acidity: 7,5 g/l
Residual sugar: 37 g/l
Extract: 27 g/l
Alkohol: 12 % vol.
Process of picking: By hand
Fermentation period: 2 week
Fermentation temperature: 13 °C
Fermentation container: Stainless steel tanks
Aging period: 4 months
Aging method: Stainless steel tanks
Packaging: Screw-capped bottles (0,75l)
Dishes to drink with:

Pancake with vanilla pudding and chestnut cream or other dessert.


Recommended serving temperature:

Chilled (12 °C)